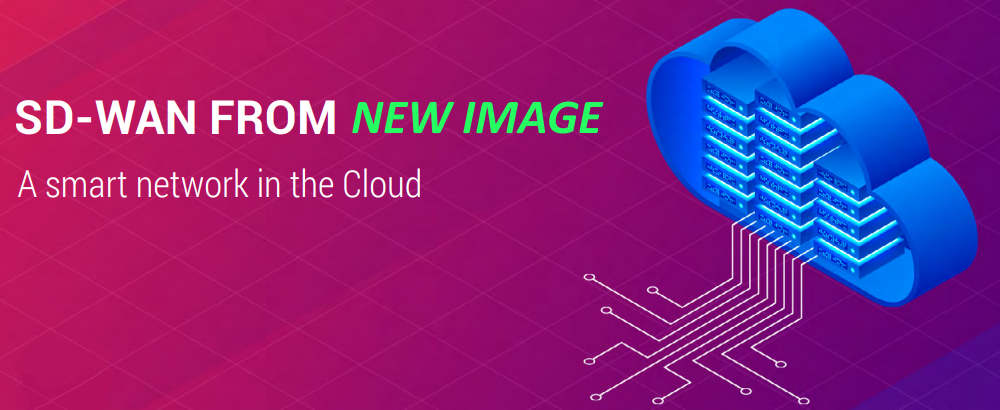 A BETTER WAY TO NETWORK
A business in today's rapid digital world cannot afford to be static, and neither can its IT infrastructure.
You need a network that is responsive enough to facilitate growth and innovation. It needs to be flexible, future-proof and capable enough to help your business achieve its goals instead of holding it back.
VIRTUALISED SERVICES ARE THE FUTURE
IT managers, eager to bypass the restrictions of legacy hardware and cumbersome configurations inhibiting new site setups and hindering support, are driving the transformation of business networks with Software-Defined Wide-Area Network or SD-WAN
Key benefits of the technology include:
A unified virtual network – a Software-Defined network allows for the linking of public and private Clouds, as well as bare infrastructure, to a single cohesive virtual network.

Greater efficiency – Applications and services can be prioritised and delivered across the network instantly with centralised policy management through a Cloud-based management portal.

ADD VALUE WITH OUR SD-WAN SOLUTION
SD-WAN is a unified, flexible and secure virtual network delivered as a plug-in-and-go solution that offers powerful and immediate benefits such as:

• Easier device management.
• Time and costs saved on set-up configuration and hardware.
• Routing traffic with maximum efficiency.
• Central management for greater control of security, usage and other policies.
• You can use your existing internet connectivity for SD-WAN, as SD-WAN is internet connectivity agnostic.

A rigid, traditional enterprise network invariably frustrates business growth objectives and these networks always pose challenges such as:

• Expensive networking technology, hardware and expertise.
• Dependency on hardware, requiring installations and constant maintenance.
• Heavy investment in legacy network technologies required to alleviate network congestion, or to add a new branch link as the business expands.
• Network downtime affecting service delivery to customers and consequently, the reputation of the business
SD-WAN FEATURES
Ignite SD-WAN brings together access policy management, visibility and control over the network, performance monitoring and event-logging onto a single device through a user-friendly dashboard.
A Unified Edge (uEdge) device ships to the branch office and connects over secure Datagram Transport Layer Security (DTLS).
The zero-touch provisioning switch feature allows devices to be provisioned and configured automatically, enabling rapid deployment.
VPN tunnels can be established once network policies and functions have been pushed down to the uEdge device.
Network Address Translation (NAT) traversal support allows for VPN tunnels to be established over challenging global transport configurations.
Up to 50Mbps Internet Connectivity supported per uEdge device per site.
FEATURES / FUNCTIONS
SD-WAN
SD-WAN Overlay.
Yes
uEdge Device supports.
Yes
Univeral CPE.
Yes
Basic firewall add-on.
Yes
Local Internet Breakout per site.
Yes
Centralised policy management
and monitoring.
Yes
Active / Active resiliency
(Use more than one internet connection
simultaneously per device per site).
Yes
Dynamic path selection.
Yes
Month to Month Contract.
Yes
Managed Setup or Self Install.
Yes
SD-WAN NETWORK THE SECURE CLOUD-DELIVERED NETWORK INFRASTRUCTURE FOR YOUR BUSINESS.

RAPID NETWORK DEPLOYMENT MADE EASY
• A minimum internet connection of 4Mbps is required at each site, Fibre, LTE or DSL
• Use more than one type of internet connection per device per site for additional redundancy, Fibre being the preferred connection medium with LTE being a close second.
• Connectivity is a prerequisite at the intended location for SD-WAN to be provisioned successfully at your premises.
• Choose your SD-WAN package and place your order on the Ignite portal.
• We will contact you directly to arrange the delivery and installation of the uEdge device. A once-off set-up fee is applicable.
• Billing will be triggered once the device has been delivered and the installation has been completed.
• Pro-rata billing and a month-to-month contract applies.
*Please note: You must ensure that your site has connectivity before you buy the SD-WAN solution.
---
CLOUD SERVERS
We can move your old onsite server to a new cloud server service over a weekend.
FOR MORE INFORMATION PLEASE CLICK HERE.
---
Anti Virus
The fact that we still refer to this type of software as "antivirus" is out of date. No longer do we have to be worried only about nasty viruses infecting our computers and wiping out our personal data. Malware is perhaps more common today, with a different tactic to achieve a still-nefarious goal.
The worst part is that the "best" malware — if you can really even call it that — will quietly sneak its way onto your PC without you knowing. It'll maybe lie dormant, hidden from view, but all the while do something that you don't want it to.
Whatever the term for it, the threats out there are still very real.
---
Clipper
Clipper is a Time Management Tool with Help Desk and Ticket Logging system built in. It is a Web Based application that we developed in-house to log our support calls.

Anyone is welcome to use the software FREE of charge.


Main Features:
Ticketing and Help Desk management system.
Is a centralised system.
Is a Web-based platform and all you need is a Browser to get started.
It has an internal messaging/chat interface.
Direct internal problem logging button. Messages goes to the development team.
Customize your solution configuration setup.
Adjustable user access control.
Clients GPS Coordinates entered and view map of client's location.
Clients can have access to the system for self-control. (Call logging and monitoring)
Can run reports like an Incident report for clients detailed information with logged hours and for billing.
Clipper also offers a full Task Automation Management System
With the Task Management System you can setup your own Check Lists. Then create an automated step by step Task Check List that you can access and complete from any mobile device with Internet access.
Clipper offers email notifications when tickets are created and changed.
The system updates customers with email & SMS alerts and escalations.
Management can run staff performance reports with the help of the built-in help desk reporting engine. You can monitor technician status and details of the service fulfilment indicators.
Access from any mobile device with a basic browser and Internet access.
Free onsite training within 100km from our offices or via the Internet.
We backup all your data free of charge.
All you need is a Browser to get started. No need to install and software on your computer or to setup a server.
---
BACKUP YOUR DATA (To the CLOUD and Keep it Safe)
If you are looking for a way to backup your data we have a solution for you. We have our very own servers placed in the Cloud that you can backup your date to.

We do this by using an Open Source software called ownCloud. We have configured this software to run on our Cloud Servers and all you have to do is the below:

Register with us.
Install the client software on your computer.
Enter your logon information.
Link the data you want to backup and sync.
Then your data will be copied to our Cloud Servers and synced from that point on.
How it works:
Your data is synced to the Cloud Servers real time when you are connected to any Internet access in the world. When you make a change to a document as you save it, it gets synced to the Cloud Server.
If you are offline so not connected to the Internet as soon as you do connect all your changes will be synced to the Cloud Server.



FOR MORE INFORMATION PLEASE CLICK HERE.
---